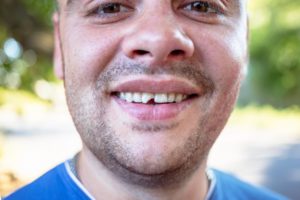 It's a chilly but beautiful Spring afternoon, and you've decided to take the kids to the park to toss the football around. Everything is going wonderfully until you look away for a second to check on your child, but your other child has already hurled the ball towards you. The next thing you know, your mouth is in severe pain, and from what you can feel, there's a part of your front tooth missing. This might not be your exact scenario, but there's a good chance you or someone you know has experienced something similar. Keep reading to learn what your Middleburg Heights dentist has to share about next steps, should you find yourself with a chipped tooth.
What to Do If Your Tooth Gets Chipped or Broken
Chipping a tooth is very common but knowing what to do right afterward is less universal. Here are the most important steps you should take if you or someone you know accidentally chips a tooth:
Rinse Out Your Mouth
If you chip or break a tooth, the very first thing you should do is rinse out your mouth. There is a good chance there may be some blood involved, and you want to make sure you eliminate the possibility of bacteria spreading. This will also help dislodge the broken part that may still be in your mouth.
Do What You Can to Stop the Bleeding
As previously mentioned, the trauma to your mouth may have caused some bleeding. If it is excessive, you will need to call 9-1-1- immediately. Otherwise, find a napkin or clean cloth to hold against the bleeding area. Apply just enough pressure to keep the bleeding at bay so that you can avoid swallowing blood or risking gum infection.
Try to Preserve the Tooth
In some cases, a chipped tooth can quickly become a knocked out tooth if the pressure was great enough. Even if the tooth is still intact but loose, don't attempt to remove it. If the entire tooth has come out, locate it, wrap it in a clean towel, and head straight to the dentist. Believe it or not, your dentist may be able to salvage it!
If Available, Apply a Cold Compress
If you find yourself in a situation where you've chipped your tooth, you may not be near an ice pack. The good news is, there are plenty of makeshift items such as bottles of cold liquid, frozen foods, or ice in a cup that you can use to help keep the swelling down until you can see the dentist.
Take OTC Pain Medicine
Before you make it to the dentist's office, you'll want to do whatever you can to reduce swelling and ease the pain caused by the trauma to your mouth. Over-the-counter anti-inflammatories, such as ibuprofen, can help with pain management.
The most important thing you should do after chipping a tooth is to immediately contact your emergency dentist. The sooner you see them, the more treatable the issue will be and the quicker they can get you back to your regularly scheduled life.
About the Practice
Dr. Kirlough leads the team of experts at his private practice in Middleburg Heights. Nothing brings him more joy than to be able to help his patients maintain the best dental health possible. He is well versed in assisting patients with dental emergencies, and his extensive experience and hours of continuing education make his practice a great choice for you. If you're in need of a dental appointment, you can request it online or call (440) 234-2445.