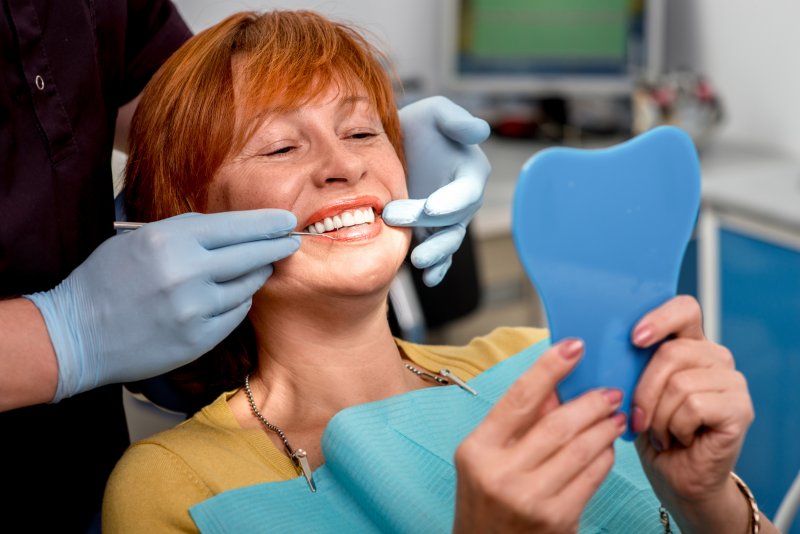 Are you struggling with missing teeth? So are a lot of other Americans. In fact, approximately 178 million Americans are missing at least one tooth while 40 million are missing all of them. The good news is that with modern dental technology, tooth loss can be a thing of the past. However, many patients are concerned that they may have grown too mature to get dental implants in Middleburg Heights. Continue reading to see what the best age is to get them as well as some of their many benefits.
How Old Is Too Old for Dental Implants?
The truth is that there is not an age that is too old to get dental implants. In fact, they are a great option for people at any age range once the jawbone has finished growing and developing. They are just as effective in older patients as younger patients and tend to heal with a similar predictability. Instead of focusing on how old you are, your dentist in Middleburg Heights will look at your overall health as well as your dental health. It is important that your jawbone and gums are in good shape. If all looks well, your dentist will deem you a good candidate for the procedure.
What Are the Benefits of Dental Implants?
Dental implants give patients their smiles back! There are all sorts of benefits that they can bring to your life. Here are just some of them:
Better oral health: This is the only tooth replacement option out there that will preserve the integrity of the jawbone. This is because the titanium implant is placed directly into the bone in order to replace the natural root of the tooth.
Look natural: Most people don't want everyone to know that they've had dental work done. The great thing about dental implants is that nobody will know unless you tell them. They are placed in the most ideal spot for osseointegration, the fusion between the implant and the jawbone, to take place. The crown that is placed on the end is customized to be the exact size, shape, and color needed to blend in with your smile seamlessly.
Easy to maintain: You take care of your implants just like you do your natural teeth. Brushing twice and flossing at lease once a day is necessary to keep them in good shape.
No eating restrictions: Unlike other tooth replacement options, you don't need to cut out any foods from your diet. You will want to be careful when eating things that are particularly hard or sticky, but other than that, you are in good shape!
Long-lasting: With proper maintenance, dental implants can last upwards on 25 years and even for the rest of your life. You may never have to worry about your missing teeth again!
Just because you're more mature doesn't necessarily mean that you'd be a poor candidate for dental implants. Talk to your dentist to determine if they are right for you so you can begin working towards your dream smile!
About the Author
Dr. Jon Kirlough earned his dental doctorate from The Ohio State University College of Dentistry before completing an Advanced Education in General Dentistry Fellowship at the Naval Dental Center on Parris Island. After serving as a dental officer in the Navy for three years and earning a Meritorious Unit Commendation and a Navy Achievement Medal, he went into private practice and has been there ever since. For more information on dental implants or to schedule a consultation to see if they are right for you, visit his website or call (440) 234-2445.