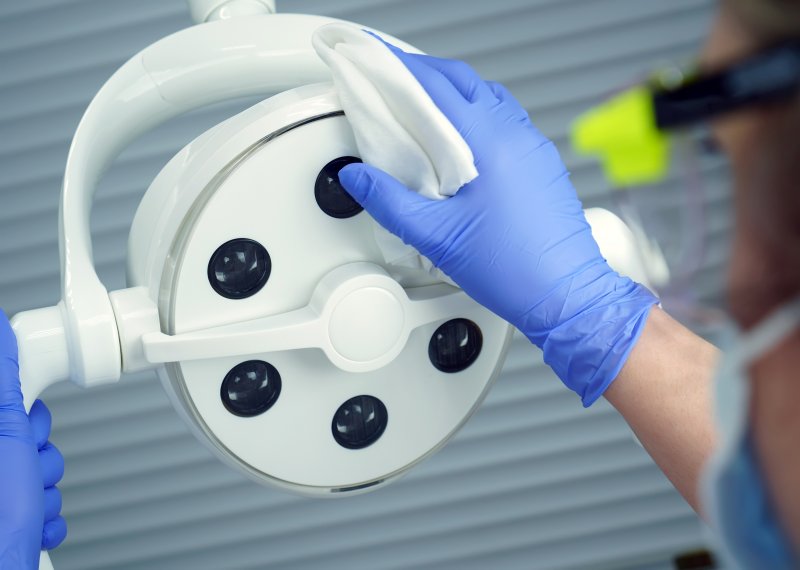 If you think a few sprays of a disinfectant solution are all your emergency dentist in Middleburg Heights needs to prevent the spread of COVID-19 in his dental office, you're wrong. The process for cleaning and sanitizing equipment, dental instruments, and surfaces is tedious and meticulous. As a patient, you should be pleased that your dental professional is going to the extreme to abide by these rules, as it not only keeps you safe but their team as well. Whether you are faced with a dental crisis and need immediate care, or you are waiting for their office to reopen for a regular checkup, check out what it really takes to eliminate a possible infection.
What is Required to Clean a Treatment Room?
Even though dental offices throughout the country abide by standard sanitizing guidelines to maintain a clean office, the Centers for Disease Control & Prevention (CDC) has issued additional guidelines for patient and employee safety. Some of these include:
Thoroughly Cleaning and Disinfecting Rooms After Each Patient
This does not mean spraying down the chair and running a paper towel over it. This means using appropriate products as well as water to pre-clean any surface that is frequently touched before applying an Environmental Protection Agency (EPA)-registered and approval disinfectant. From the chair to the equipment to the door handles, all surfaces must be thoroughly disinfected before the next patient arrives.
Managing Laundry (PPE) Correctly
Since dental professionals are now required to wear personal protective equipment (PPE), if a mask or other article of clothing (lab coat/gown) is reusable, it must be laundered in accordance with the CDC procedures.
Properly Cleaning Reusable Equipment
When using any type of equipment for a dental exam, it must be thoroughly disinfected before being reused. Although most dentists are encouraged to use instruments and equipment designed for single use only, this is sometimes not possible. Should your dentist require the use of a device that cannot be disposed of, they are required to follow the manufacturer's instructions when sanitizing and disinfecting.
What Other Safety Guidelines Are Dentists Taking?
As dental offices begin to reopen in the next few weeks or months, you can expect to find your dentist also taking these measures:
Practicing proper handwashing etiquette
Performing daily temperature checks of staff members
Requiring all staff to change into work clothes when they arrive and change out before they leave
Practicing social distancing among colleagues
Removing all reading materials and self-service beverage stations to avoid contamination among patients
With these new guidelines, everyone will remain safe and healthy when visiting the dentist's office.
About the Author
Dr. Jon Kirlough graduated from The Ohio State University College of Dentistry in 2000 before serving as a dental officer in the U.S. Navy for 3 years. Since resigning from his commission in 2006 as a lieutenant commander, he opened his practice and continues to help patients achieve healthier smiles. However, just like most dental professionals right now, he is only seeing emergency patients right now due to COVID-19. Should you or a loved one find yourself in need of immediate dental care, contact us at (440) 234-2445. We are taking extreme precautions to maintain a clean environment that is safe for you to visit.