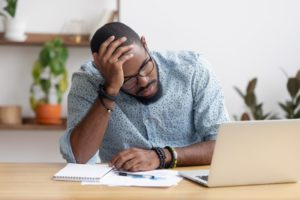 It's natural to feel stressed because of the current COVID-19 pandemic and its impact on society. While this reaction can help us stay alert and careful during uncertain times, it can also have a negative impact on our body—including our smile. Learning how to manage stress can help protect your mental, physical, and oral health throughout your time in quarantine as well as after. Find out how these trying times are affecting your teeth and gums, and learn a few stress-management tips from your Middleburg Heights dentist to protect your smile.
How Stress Impacts Your Smile
Stress can set off a variety of reactions all throughout the body, including oral health conditions like:
Bruxism: Grinding your teeth in your sleep is a condition known as bruxism. Over time, it wears down your teeth and leaves them susceptible to damage and decay.
TMJ disorder: Your temporomandibular joints allow you to move your lower jaw. Extra tension in these joints can lead to uncomfortable swelling, stiffness, pain, or clicking in the jaw.
Canker sores: Several recent studies have found that stress can trigger canker sores. What's more, stress may also slow down the healing process of these mouth ulcers.
Gum disease: Your immune system suffers when you're stressed. This leaves you more vulnerable to a bacterial infection in the gums known as gum disease, which is cited as the leading cause of tooth loss in the US.
Nail-biting: Chewing on fingernails is a common unconscious reaction to stress. This bad habit weakens your teeth and introduces new bacteria into your mouth.
Tips for Relieving Stress
While there are remedies that can treat the above conditions, managing your stress can help you put a stop to them altogether. To feel more at-ease during the coronavirus pandemic, the Centers for Disease Control and Prevention suggest:
Getting at least eight hours of sleep every night.
Eating well-balanced meals and staying hydrated.
Practicing safe habits like hand washing and social distancing.
Reducing your exposure to news stories and practicing calming activities like meditation.
Communicating your feelings to trusted friends, family members, or a professional.
Remember, it's completely understandable to be feeling anxious in these uncertain times. Do your best to practice these stress-management tips and look forward to coming out of quarantine with a happy, healthy smile!
About the Author
At Kirlough Family Dentistry in Cleveland, OH, your health and peace of mind are always our top priority. Typically, Dr. Jon Kirlough demonstrates this through his excellent dental treatments and friendly office environment. However, in light of the current pandemic, we are showing our care by encouraging all our patients to practice social distancing, regular hand washing, and healthy habits to manage stress. If you have any questions or concerns, feel free to contact us via our website or at (440) 234-2445.