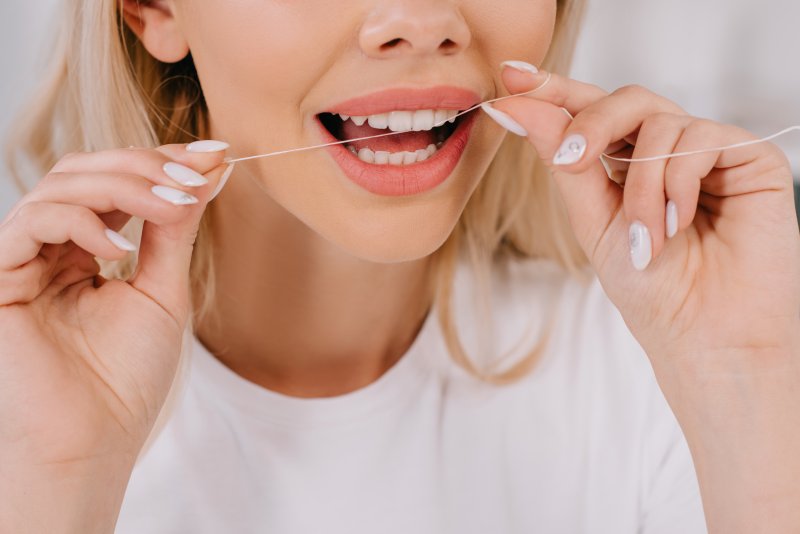 Thanks to Invisalign, you can achieve the straight smile you've always wanted without the hassle of wearing metal wires and brackets. What's more, there are no dietary restrictions while undergoing this modern orthodontic treatment! You must simply remove the clear aligners before eating or drinking anything that's not water. Unfortunately, that means food can easily get trapped between teeth during treatment. That's why practicing good oral hygiene, particularly flossing, is incredibly important! With that in mind, here's what you should know about flossing with Invisalign.
The Importance of Flossing
Although it's often overlooked, flossing is a crucial step in your oral hygiene routine. It helps remove food particles, bacteria, plaque, and other harmful substances from between your teeth. It's especially important to floss during Invisalign treatment since you cover your teeth with an aligner for up to 22 hours a day. Failing to do so can cause bacteria to accumulate on your teeth, increasing your risk of gum damage and chronic bad breath. Therefore, you should aim to floss after every meal or at least once a day.
How to Properly Clean Your Teeth
Are you unsure how to properly clean your teeth while undergoing treatment? Here's a step-by-step on flossing with Invisalign:
Remove Your Aligners
Logically, the first step in cleaning your teeth is removing your clear aligners. If you were eating, they were probably already out. It's a good idea to soak your aligners while they're not in your mouth to ensure they're clean and free of bacteria.
Brush Your Teeth
After eating, you must brush your teeth thoroughly. It's essential to remove food particles and other lingering debris. However, even if you brush for the recommended two minutes, there are small areas in your mouth that your toothbrush can't reach.
Rinse Your Mouth
To loosen up any remaining food particles, you should swish water or mouthwash around your mouth. You'll likely be surprised to see how much was left behind after brushing! Make sure you rinse thoroughly and repeat as needed.
Floss Your Teeth
Flossing involves using string to remove food particles, plaque, tartar, and bacteria from between your teeth. Here's how to do it properly:
Remove a piece of dental floss that's about 18 cm long. It may seem excessive, but you need the extra room to hold the floss.
Wrap the ends of the string around your fingers and leave a few inches to work with between your teeth.
Glide the floss between your teeth and slowly up towards the gum line.
Work the floss around your teeth by creating a "C" with the string and use an up and down motion.
Once you're done with one tooth, continue the steps above until you have cleaned between all your teeth.
After flossing your teeth properly, you can slip your Invisalign aligners back into your mouth. Using the correct technique is the best way to keep your smile happy and healthy throughout your treatment plan!
About the Practice
At Kirlough Family Dentistry, we provide exceptional and high-quality dental services to patients of all ages. Our team strives to help families achieve and maintain optimal oral health. If you have any questions about flossing with Invisalign, we're more than happy to answer them for you. Visit our website or call (440) 234-2445 to speak to a member of our team.