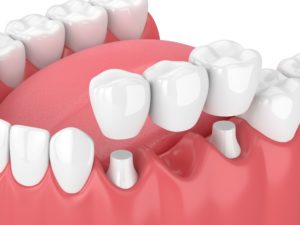 Throughout your life, you never expected to lose a permanent tooth, but now you're among the 120 million Americans who are missing at least 1. Although tooth loss is often viewed as only an aesthetic concern, there are other complications that can significantly impact your oral health. Not to mention, certain foods may be too difficult to chew. You don't need to skip your favorite meals or put your remaining teeth at risk. Your dentist can rebuild your smile and your self-esteem with dental bridges in Middleburg Heights.
What is a Fixed Bridge?
Also known as a bridge and crowns, a traditional fixed bridge replaces 1 to 3 consecutive missing teeth. All-ceramic material is used to replicate the portions of your teeth visible above the gum line. They are carefully crafted to mimic the color, size, shape, and proportion of your real teeth to look natural. The bridge is then held in place by reshaping your adjacent teeth to bond dental crowns over them. As an alternative to crowns, you can anchor your bridge to your jawbone using dental implants. You'll enjoy a convenient solution to restore your oral health and your quality of life.
What are the Benefits of a Fixed Bridge?
Every tooth is essential to your dental health. When even one is lost, you have a higher risk of gum disease, cavities, and additional tooth loss because your remaining teeth won't have the support they need to stay in place. A bridge provides them with support to prevent dental drift. Overall, you'll enjoy a variety of benefits, including:
Complete smile to improve your self-esteem.
Restore your ability to chew and speak.
Support your facial tissues for a youthful appearance.
Evenly distributes bite force.
Prevents dental drift.
What is the Process of Getting a Bridge?
After an initial consultation, you're scheduled for your procedure to prepare your abutment teeth. They are reshaped to allow dental crowns to fit over them. Your dentist will take an impression of your mouth to create a model for the dental lab to design your new teeth. This can take a couple of weeks, so you'll need a temporary bridge in the meantime. After your bridge is sent back to the office, you'll return to have it set in place and your dental crowns bonded to your teeth.
Your new bridge can last for an average of 7 years before needing to be replaced, but you can make it last a decade or longer by maintaining your oral hygiene and visiting your dentist regularly.
Complete Your Smile Today!
You don't need to struggle with an incomplete smile. You can replace your missing teeth and revamp your confidence with a dental bridge.
About Dr. Jon Kirlough
Dr. Jon Kirlough strives to create confident smiles through improved oral health. Besides earning his dental degree, he also has more than 500 hours of continuing education behind him to provide high-quality services. He offers the solutions you need for a healthy, beautiful smile. If you're missing teeth, contact our office today to rehabilitate your smile.