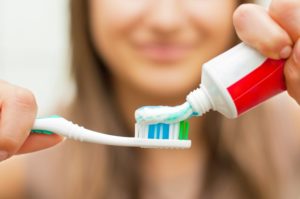 Making sure your teeth last a lifetime involves thorough at-home care every day. Even though your pearly whites may look nice, that doesn't always mean they're healthy, which is why it's also vital to visit a dentist in Middleburg Heights for your routine checkups and cleanings every six months. This way, you can prevent oral health problems that can have permanent impacts on your mouth from developing. To make sure your teeth last a lifetime, follow these five tips for at-home oral health.
Don't Go to Bed Before Your Oral Hygiene Routine
After a rough day at work, it can be tempting to crash as soon as you get home. At night, you need to brush, rinse with an antibacterial mouthwash, and floss to give your mouth a fresh slate after a long day of accumulating germs and cavity-causing plaque. Be sure to use oral hygiene products that contain fluoride, because it helps fight off tooth decay, germs, and provides a shield of protection for your pearly whites.
Switch Up Your Diet
Foods that are packed full of sugars and carbohydrates can cause oral health problems to develop. So, if you have a sweet tooth, try substituting a packet of candy for something a bit healthier, like fresh fruit with yogurt. Acidic beverages like energy drinks can also gravely impact your oral health and cause enamel erosion, so it's best to stay away from those and drink water instead.
Avoid Tobacco Use
Whether you're smoking, chewing, or vaping tobacco products, it's all bad for your oral and overall health. Not only do you increase your risk of developing lung cancer and breathing problems, but you also leave your mouth vulnerable to gum disease, oral cancer, and even tooth loss. In fact, people who smoke cigarettes are twice as likely to get gum disease compared to non-smokers.
Use the Proper Cleaning Techniques
Did anybody ever teach you to brush your teeth, or did they just hand you a brush and tell you to get to it? Even though you may brush twice a day, you may not be using the proper technique to do it. Be sure to hold your brush at a 45-degree angle towards your gum line and gently, in circular motions, scrub your soft-bristled brush across your teeth. Keep in mind that being too aggressive can result in severe damage to your mouth.
Find Oral Health Products That are Right For Your Mouth
Have you ever wondered why there are so many types of oral hygiene products out there? Well, everybody's mouth is different, meaning that certain ingredients and products may be the best to use for you, but not your friend. For the best results, who's better to ask for recommendations than the person that takes a look in your mouth every six months, your family dentist in Middelburg Heights?
Following these five at-home oral hygiene tips can help keep your natural teeth healthy and beautiful so you can enjoy them for years to come. When you take the proper preventive steps, you can save yourself hassle, time, and money down the road.
About the Author
Dr. Jon Kirlough enjoys getting to know each and every one of his patients. He's passionate about giving them the tools and knowledge they need to optimize their oral health and enjoy their natural teeth for years to come. He has completed over 500 hours of continuing education courses to keep him up-to-date with the latest techniques and technology in dentistry. For questions or to schedule a routine checkup and cleaning, visit Kirlough Family Dentistry's website or call 440-234-2445.