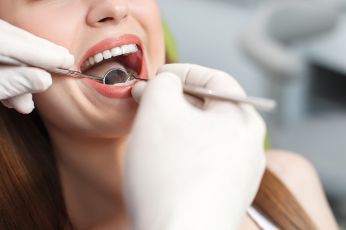 Whether you've been a patient of ours for a long time or you haven't had your first visit with us yet, we'd like to introduce you to the dentist in Cleveland who recently took over the practice: Dr. Jon Kirlough. We've been serving the community for four decades now and we're so glad that our patients will be in the capable hands of Dr. Kirlough. We're also excited to share our first blog post to tell you more about his background and the kind of care he provides, in addition to what kind of services are available here. We'll be sharing valuable oral health tips and tricks each month, so don't forget to check back in. The whole team looks forward to serving your dental needs for many years to come!
What Is Dr. Kirlough's Background?
Dr. Kirlough graduated from The Ohio State University College of Dentistry in 2000 and, before going into private practice, served as a dental officer in the Navy. As part of his commitment to professional excellence, he focuses on all of the following:
Advanced Education – In addition to his many years of experience, he's completed over 500 hours of continuing education so he can use the latest technology and techniques.
Prevention – Great dental care is a combination of high-quality treatment along with effective prevention. Dr. Kirlough helps his patients minimize the amount of dental work they need by focusing on prevention first.
Conservative Care –Dr. Kirlough is a dentist in Middleburg Heights whose goal is creating life-long relationships with his patients that are built on trust. That's why he only recommends treatment that is absolutely necessary for good oral health.
What Kind of Services Can You Get at Kirlough Family Dentistry?
Modern life is busy, so we know our patients want comprehensive care, convenience, and quality – all in one place. That's why we provide a wide range of services for patients of all ages, including:
Checkups and cleanings with an oral cancer screening at each visit
Children's dentistry, including sealants, fluoride treatments, and athletic guards
Cosmetic dentistry such as whitening, gum recontouring, and porcelain veneers
ClearCorrect clear braces
Gum therapy and periodontal care
Fillings, dental crowns, and root canals
Bridges and dentures
TMJ/TMD treatment
Dental implants from start to finish (surgical placement and restoration)
Wisdom teeth extractions
Oral conscious sedation and nitrous oxide sedation
Emergency care
Also, if you haven't seen us before, you'll be glad to know that we are accepting new patients!
What Can You Expect At Every Appointment?
At Kirlough Family Dentistry, you'll never be pressured into making decisions. Instead, we take your oral health, dental history, goals, budget, and lifestyle into account so we can make the best recommendation for you. And, when possible, we always give you multiple options to choose from so you can make the best decision.
We know that personalized care helps our patients feel taken care of so they can achieve the best oral health possible. From the beginning of your appointment until the moment you walk out the door, you'll be treated like family!
About the Author
Dr. Joseph Ferrini founded his dental practice 40 years ago and has been proud to welcome Dr. Jon Kirlough to the team. With nearly 20 years of experience and a compassionate chairside manner, he's able to continue providing the same outstanding dental care that our patients are accustomed to. If you have any questions or would like to schedule an appointment, he can be reached via his website.